Patterns of workplace online sexual harassment of female university students by faculties in India and legal recourse: A critical commentary
Palavras-chave:
Workplace sexual harassment, onlineharassment, POSH Act, cybercrimes, Cyber stalking, Cyber pornography, India
Resumo
Workplace sexual harassment at universities in India has been rising steeply. But it would be wrong to say that sexual harassment at universities may happen only physically. It may happen on cyber space as well.  During the Covid 19 lock down, universities were forced to take up new normal procedures for conducting classes undergraduate and post graduate students. This has increased the chances for online sexual harassment of women including female university students by male faculties. This chapter researches on the patterns of online workplace sexual harassment on the basis of the Sexual harassment of women at workplace prevention, prohibition and redressal) Act, 2013 (POSH Act). It provides a commentary on the commentary on the legal recourse to such problems as offered by the POSH Act and argues that there are several lacunae in the said Act which may not encourage female students to report or to withdraw their complaints. This chapter suggests that more awareness about the POSH Act as well as about patterns of online harassment and penal provisions regarding the same may improve the situation. 
Downloads
Não há dados estatísticos.
Referências
Brackenridge, C. (1997). HE OWNED ME BASICALLY...' Women's Experience of Sexual Abuse in Sport. International Review for the Sociology of Sport, 32(2), 115-130.
Cramer, H., de Juan, P., & Tetreault, J. (2016, September). Sender-intended functions of emojis in US messaging. In Proceedings of the 18th International Conference on Human-Computer Interaction with Mobile Devices and Services (pp. 504-509).
Mathur, K. (1992). Bhateri rape case: Backlash and protest. Economic and Political Weekly, 2221-2224.
Pegu, S. (2019). MeToo in India: building revolutions from solidarities. Decision, 46(2), 151-168.
Raina, M. K. (2002). Guru-shishya relationship in Indian culture: The possibility of a creative resilient framework. Psychology and developing societies, 14(1), 167-198.
Soma Owen, P. (2018). Conservation photography: evaluating the impact of photographic images in conveying conservation related messages (Doctoral dissertation).
Thomas, A. (2015). Incidents of sexual harassment at educational institutions in India: Preventive measures and grievance handling. International Journal of Recent Advances in Multidisciplinary Research, 2(03), 0317-0322.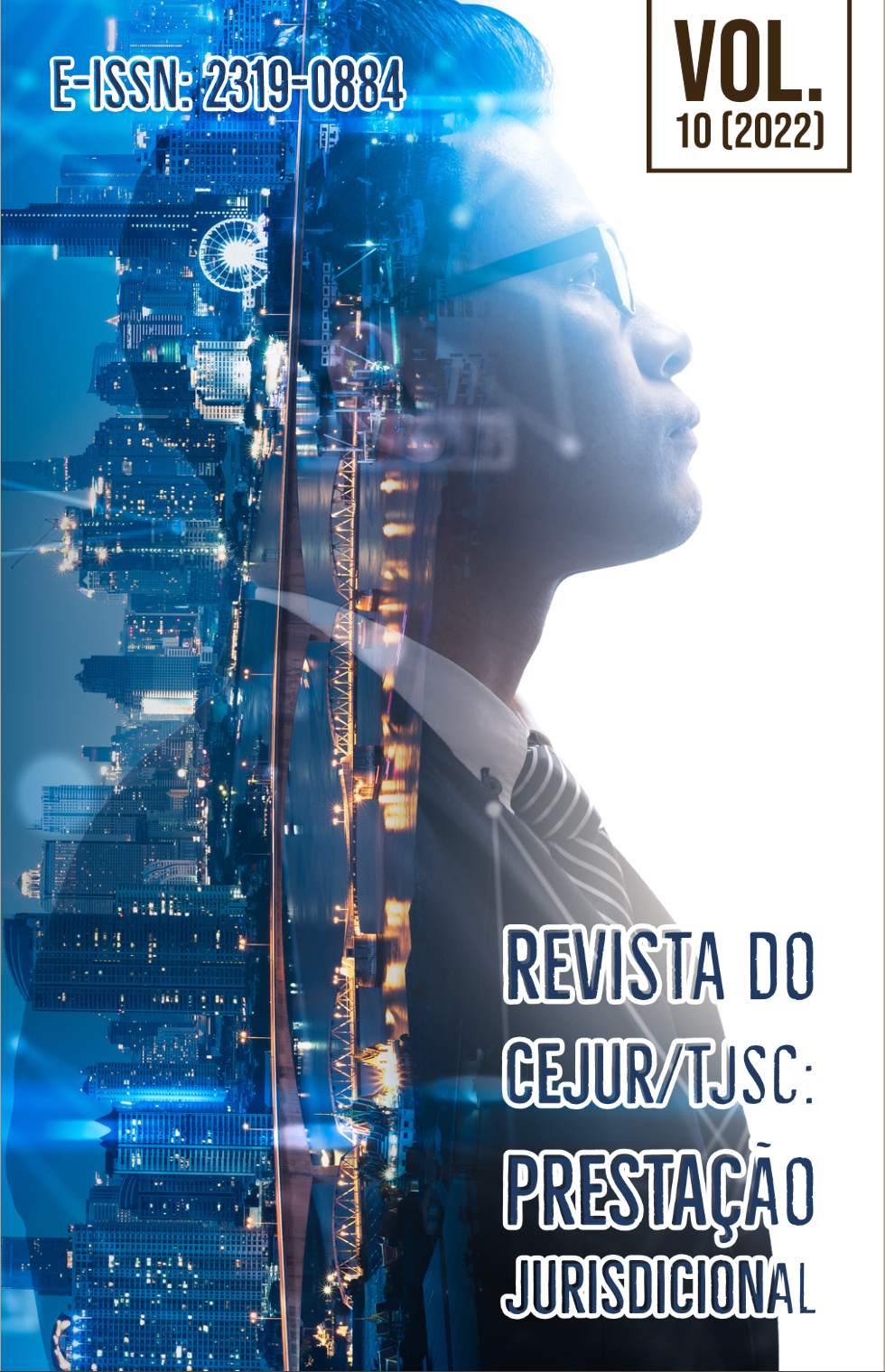 Como Citar
HALDER, D. Patterns of workplace online sexual harassment of female university students by faculties in India and legal recourse: A critical commentary. Revista do CEJUR/TJSC: Prestação Jurisdicional, Florianópolis (SC), v. 10, n. 1, p. e0390, 2022. DOI: 10.37497/revistacejur.v10i1.390. Disponível em: https://revistadocejur.tjsc.jus.br/cejur/article/view/390. Acesso em: 6 fev. 2023.
Seção
Perspectiva (Nacional/Internacional)
Licença
Copyright (c) 2022 Debarati Halder
Este trabalho está licenciado sob uma licença Creative Commons Attribution-NonCommercial 4.0 International License.
O(s) autor(es) autoriza(m) a publicação do artigo na revista;
• O(s) autor(es) garante(m) que a contribuição é original e inédita e que não está em processo de avaliação em outra(s) revista(s);
• A revista não se responsabiliza pelas opiniões, ideias e conceitos emitidos nos textos, por serem de inteira responsabilidade de seu(s) autor(es);
• É reservado aos editores o direito de proceder ajustes textuais e de adequação do artigo às normas da publicação.
Autores mantêm os direitos autorais e concedem à revista o direito de primeira publicação, com o trabalho simultaneamente licenciado sob a 
Creative Commons
- Attribution-NonCommercial-ShareAlike 4.0 International (CC BY-NC-SA 4.0)
.
. link: http://creativecommons.org/licenses/by-nc-sa/4.0/
Autores têm autorização para assumir contratos adicionais separadamente, para distribuição não exclusiva da versão do trabalho publicada nesta revista (ex.: publicar em repositório institucional ou como capítulo de livro), com reconhecimento de autoria e publicação inicial nesta revista.
Autores têm permissão e são estimulados a publicar e distribuir seu trabalho online (ex.: em repositórios institucionais ou na sua página pessoal) a qualquer ponto antes ou durante o processo editorial, já que isso pode gerar alterações produtivas, bem como aumentar o impacto e a citação do trabalho publicado (Veja O Efeito do Acesso Livre) emhttp://opcit.eprints.org/oacitation-biblio.html